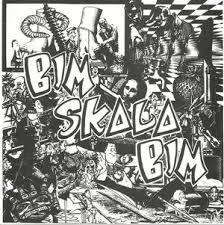 This is Marc Wasserman. I'm writing an oral history about the birth of American ska and reggae called Ska Boom that will be published by DiWulf Publishing in 2020. I've created this podcast to document the book writing process and share some of the amazing stories I'm capturing in the interviews I'm conducting
I'm back hard at work on the book. I've completed 14 chapters and now have just five more chapters to go. I can finally see light at the end of the tunnel. The next few weeks will be spent working on a chapter about Boston's Bim Skala Bim.
I recently conducted an interview with the band's original trombonist John Ferry.    John co-founded the band with lead singer Dan Vitale in Boston in 1983 after meeting him while working for Green Peace. The two shared a love of reggae and talked about starting a band and soon after meeting the band's bassist Mark Ferranti were joined by a group of local high school students who formed the first iteration of the band.
 I wanted to share some excerpts from my interview with John. I asked him about the writing process for the songs that were recorded for their first album and he shared the origins of the band's signature song "Jah Laundromat." The original line-up was hired to play the one year anniversary of the Laundromat where John was working. John pick's up the story…